CUSTOM
Rex Industries' custom metal fabrication has involved water projects, bridgework, dams, hydroelectric power, and a myriad of highway projects.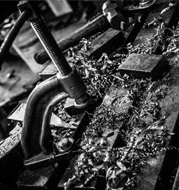 Many industrial projects require custom steel fabrication as a part of the regular project scope in order to achieve project objectives. Rex Industries uses its expertise in computer aided design and manufacturing to build project-specific components, and to enhance standard components.
Our fabrication team is known for its meticulous attention to detail and utilizes industry leading CNC plasma cutting, punch press, and press brake equipment in the fabrication process. Our detailed planning and fabrication ensures a precise fit of all custom components.
Rex Industries' staff has expertise in custom work with galvanized steel, carbon steel, stainless steel, aluminum, and other specialty metals. Additionally, other materials can be researched and evaluated in order to meet customer needs.
Give us a call or submit a Request for Proposal to find out how we can fulfill your custom work order.

See a complete list of our Services and Capabilities.